Welcome to VuWall's Partner Portal
Your gateway to find all the resources you need to sell, support and succeed with VuWall's market-leading solutions
VuWall's Partner Portal gives you full access to essential resources to help you succeed.
Offered to AV, IT and Security integrators, VuWall's innovative visualization solutions and partner program benefits will give you the edge that you need to succeed. This portal provides our partners with the tools you need to grow your business, enter new markets, reach your next partner level and stay competitive.
MARKETING SUPPORT
Business development activities to help increase visibility and leads
TRAINING

Get VuWall Certified with our
CTS-Accredited Training Program
DOCUMENTATION
Release notes, manuals, datasheets, PPT presentations, and more
DEAL REGISTRATION

Bring us new projects and get exclusive support and benefits
DEMO GEAR
Get equipped to impress your customers anytime
ROADMAP PREVIEW

Be the first to know! Exclusive previews of upcoming features

Don't have a VuWall Partner Portal account yet?
To unlock the complete collection of Portal resources, please complete the request form.
As a VuWall Partner, you will receive log-in information shortly.
World-class partnerships driving business forward.
VuWall solutions are sold exclusively through our channel partners. We are committed to helping you deliver the best solutions to your customers and growing our business together. Our innovative and interoperable technology reduces project risk and deployment time.
Our joint success relies on the expertise and talent that we bring one another and our strong collaboration:
Together we are better!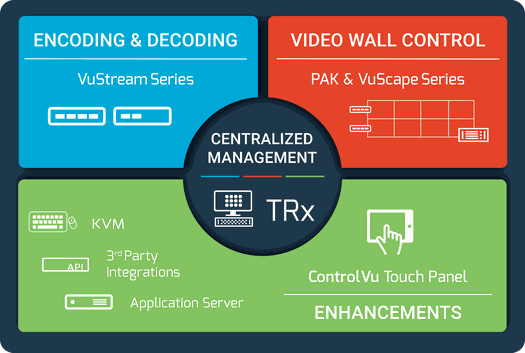 Video wall management and unified visualization for professional and mission-critical applications
The VuWall ecosystem of interoperable products is built on a unique standards-based architecture that provides the most effective distribution of visual information, from any source to any display or video wall throughout organizations. The TRx centralized management platform bridges AV, IT and IP systems ensuring interoperability and ease of use, reducing deployment time and integration risk, simplifying AV-over-IP deployments.




CENTRAL MANAGEMENT
Configure and control all devices from a single UI.




USER FRIENDLY AND INTUITIVE
Easy drag & drop
operations.




FUTURE PROOF & INTEROPERABLE
Standards-based solutions.




NO PROGRAMMING
Faster deployment time. Reducing project risk.




FLEXIBLE & SCALABLE
Easily expand with growing needs.
DEMO
Personalized live demo to you and your customers.
PROJECT DESIGN
Free project design services.
TECH SUPPORT
Outstanding multilingual global technical team.
QUALITY
High performance, innovative and user-centric solutions.
We Want Your Feedback
Tell us about your portal experience. Are you having trouble logging in? Did you find everything you were looking for? How can we improve your experience?

Questions?
Talk to a video wall expert. We're here to help!